Events can be a highly effective business strategy for just about any organization regardless of industry. They are a unique marketing opportunity in part because they benefit all parties involved, providing high value to hosts, sponsors, partners, and guests alike.
The printed collateral and the visuals displayed in the event space play a major role in contributing to the overall event experience. The right visuals help set the tone and allow for a space that is conducive to the event's success.
When it comes to event printing, visual graphics, and installations, we are a one-stop shop. We've had the luxury of providing event visual support for numerous clients over the years.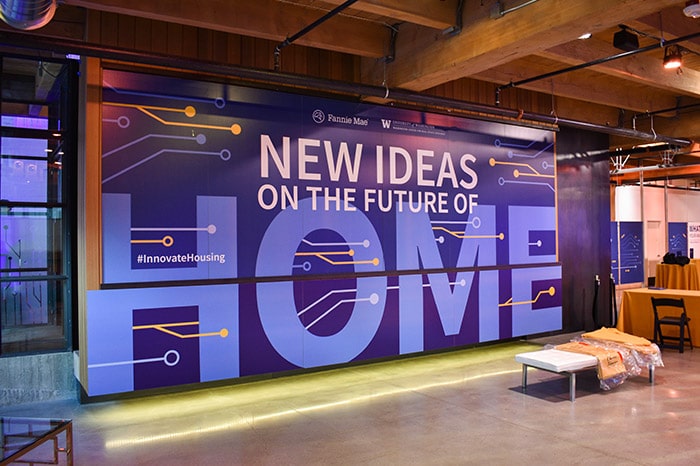 Last November we worked with Fannie Mae on their Innovate Housing event. This half-day event focused on the intersection of housing, innovation and tech. It was held at Block 41 in downtown Seattle. It's a space we've grown to know quite well. We've worked on numerous events at Block 41, including our own 30th Anniversary event last September.
With a combination of banners, backdrops, signs, window graphics, floor graphics, name tags, table top displays, magnets, and more, we helped Fannie Mae transform the event space into an immersive visually engaging experience.
Fannie Mae provided the designs and we did all the manufacturing and installation.
From the photos below, you can see that the event was a huge success. The final visual treatment of the space met every one of our clients needs. Fannie Mae was happy, so we were happy.
Take a look.