As a commercial printer, we are no stranger to partnering with organizations in the healthcare industry. Together we have produced some outstanding work. We recently worked with Virginia Mason to manufacture and install a three-dimensional wall graphic commemorating their 100th year centennial celebration.
Virginia Mason first opened their doors in 1920, and they've been serving patients and contributing to the health and well-being of the community ever since.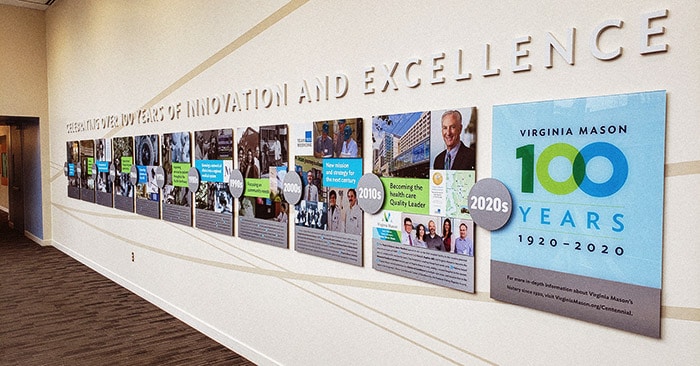 The wall graphic features imagery that highlights Virginia Mason's key accomplishments from the last 100 years. It's complicated piece with a lot of different parts. Virginia Mason came up with the beautiful design and we manufactured and installed it for them.
The following people were key contributors to the graphic.
Jeni Spamer, MSI – Archivist, Virginia Mason Historical Archives
Marcia Friedman – Graphic Designer, Friedman Petersen Design
Wendy Garrison – Interior Designer, Garrison Design Inc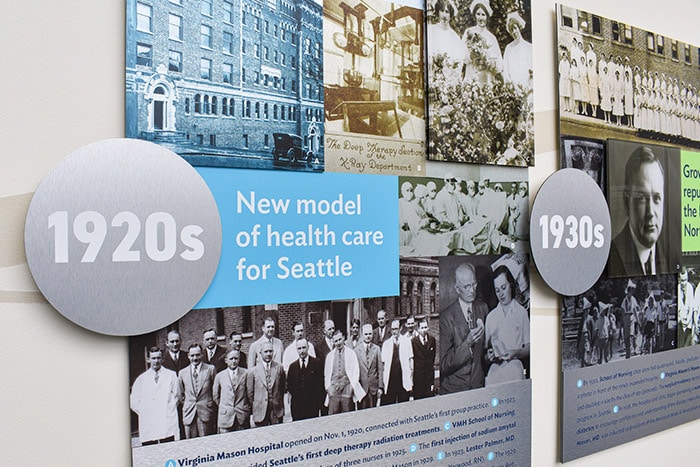 The eleven 30" x 37" panels mounted on the wall make up the majority of the installation. Each panel represents a specific decade, starting with 1920s and ending on 2020s. The first ten panels are composed from brushed aluminum DIEBOND. We printed directly to the backing DIEBOND board, as well as produced additional smaller DIEBOND and acrylic sections, mounting them to the front of the backing board. This created an element of depth to the graphic, adding to the visual appeal of the piece.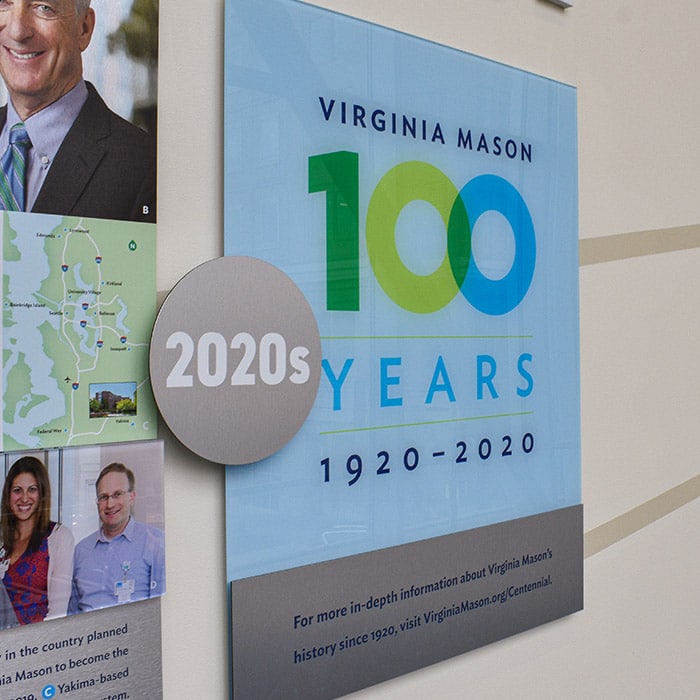 The panel celebrating the 2020s is printed on transparent acrylic. A separate DIEBOND piece is affixed to the bottom of the acrylic panel.
The circular plaques depicting the individual decades are created from printing white ink directly on DIEBOND.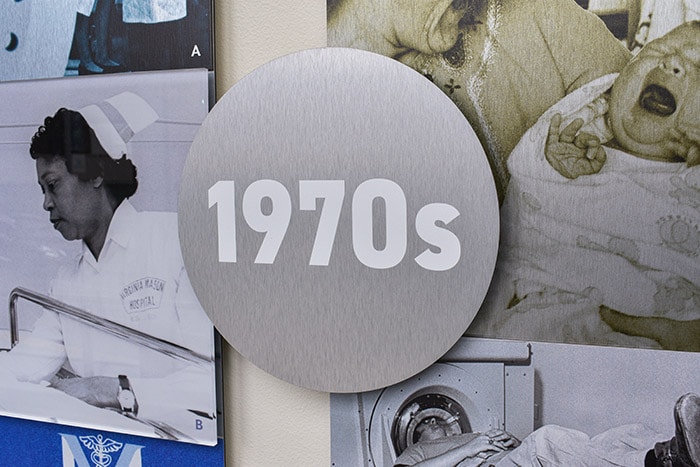 The other part of this display is the white 3-D lettering above the panels that spans the length of the entire graphic. The 6" letters, individually cut out from 19mm sintra, spell out the phrase "CELEBRATING OVER 100 YEARS OF INNOVATION AND EXCELLENCE".
More than 100 separate pieces were required to build and install the final graphic. The final length comes in over 35 feet.
It's on full display at the Virginia Mason Seattle medical center on 9th Avenue. You ca see the photos of the graphic below. If you are in the neighborhood, be sure to check it out in person.