These days more and more businesses are adding soft signage to their branding and signage mix. Soft signage products, printed on textiles, include items such as flags, banners, drapes, backdrops, and silicone edge graphics (SEG) that sit on a permanent frame installation.
As a complete print solutions provider, AlphaGaphics Seattle has the dye sublimation printing capabilities to produce a full-range of soft signage products for our clients.
There are many reason to be excited about fabric sign solutions. They are well-suited for both indoor and outdoor display applications. It's the only solution that can handle situations where signs must have a "draped" effect. And fabric signage is light-weight and durable. Which makes it easy to handle, package, store, transport, or ship without sustaining damage.
Advantages of Soft Signage
Vibrant colors, elegant look and feel
Light weight, easy and cost-effective to package, ship, or deliver
Durable, resistant to fading, easy to handle and store without damaging
No lingering odors (unlike some vinyl signage solutions)
Flexible applications (draping, backlit signs, flags, framing, step and repeat, etc.)
Glare free
Easy to clean, retain strong color saturation
Easy to replace or install without the need of a specialist
Reusable, great temporary sign solution
No cracks or bends, can be folded without damage
Well-suited for both interior and exterior applications
More environmentally friendly than vinyl
There are a few different print technologies capable of soft-signage production. However, the one that is most responsible for this new soft-signage trend is dye sublimation.
What is Dye Sublimation?
The dye sublimation process is often perceived as more complicated than it actually is. Let's break down for you.
Dye Sublimation is the full-color imaging process of printing directly to a polyester mix fabric.
Specialty inks are used that, when heated to the right temperature, transform into a gas. Then once applied to the surface of the textile, the ink forms a permanent bond with the fabric.  During dye-sublimation, the image becomes a part of the fabric. You will feel no extra layer of ink coating.
A polyester or polyester blend fabric is required for sublimation to create the chemical reaction that bonds the ink to the fabric.  Sublimation is typically done on white fabric. Dye colors are transparent after sublimation and they need a background to be visible. And white is the ideal background color since it does not add a bias to the printed colors.
Production Process
Dye sublimation printing typically is a two part process.
First, an image reverse prints on heat-resistant paper (dye sub transfer paper).  Next, the print is transferred (sublimated) from the paper to the fabric using a heat press or calendar. This method requires two separate pieces of large format equipment, a printer and heat-press or calendar.
Some presses have the ability to print directly to the fabric AND complete the sublimation process inline. So no transfer paper or a dedicated heat press is needed. The graphics are immediately ready for finishing and packaging. From a production standpoint, this method is best suited for jobs that print on an entire roll.
Our Equipment
Vutek FabriVU 340 digital large format fabric press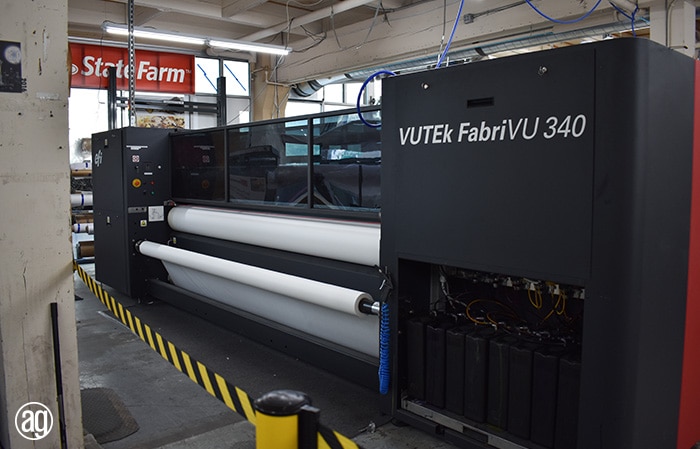 Klieverik GTC large-format fixation calendar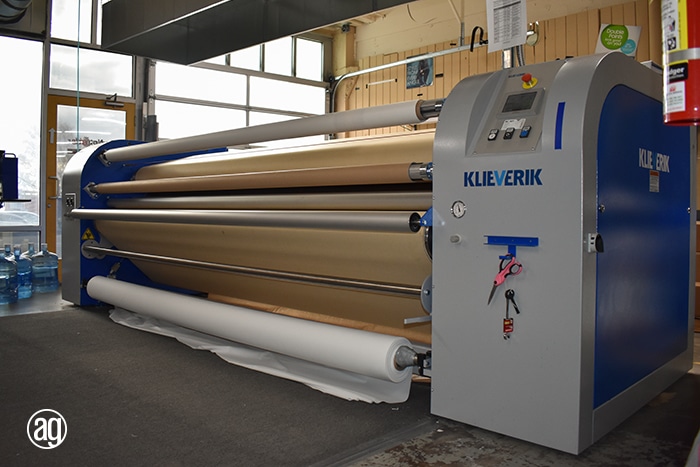 On our large-format production room floor sits a Vutek FabriVU 340 fabric press and a Klieverik GTC calendar. We can print on fabric up to 133" wide.
The Vutek FabriVU gives us the option of printing on transfer paper, as well as the ability to print directly on fabric.  In either case, we will typically sublimate on the calendar. This will generate better results than inline sublimation.
What method to use will ultimately depend on what is best for the client and their specific project needs.
Print Quality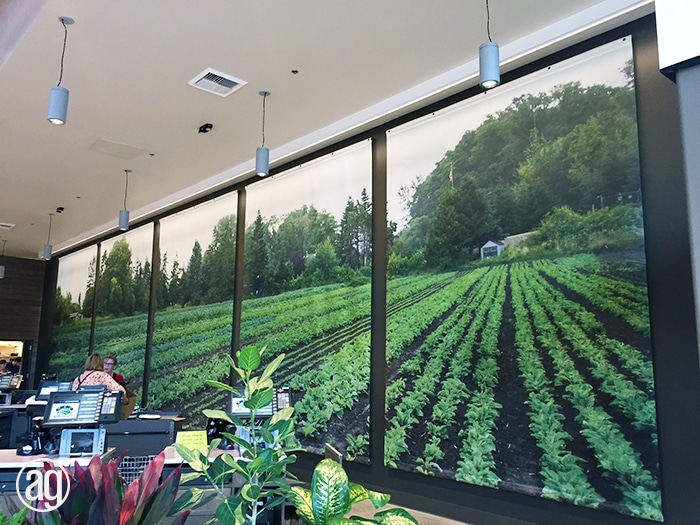 The quality of dye sublimation printing is across-the-board fantastic.
Colors are fully absorbed by the fabric and maintain high-level of vivid saturation through solid areas. Edges between colors are clean. This produces clear, smooth gradients and crisp, well-defined text and graphics.
Much like a standard vinyl banner, digitally printed fabric signs give you a variety of finishing options. This includes sewing, cutting, grommets, pole pockets, framing, and more.
Common Soft-Signage Applications
Banners
Backlit signs
Event graphics
Tension frames
Flags
Hanging signs
SEG (silicon edge graphics) with frames
Window displays
Step and repeat banners
Backdrops
Frontlit displays
Instagram murals / walls
Posters
Interior office decor
Temporary graphics
Banner stands
Trade-show displays
Point-of-Purchase (POP) displays
Awnings
Wall-covers
SEG backlit frames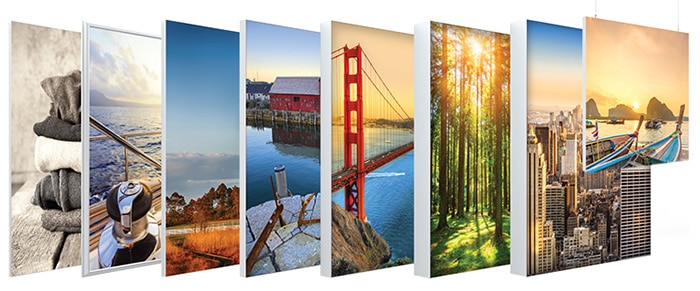 Our Work
Here are a few dye sublimation projects we've recently delivered to clients.
Fabric window display art installation at Amazon headquarters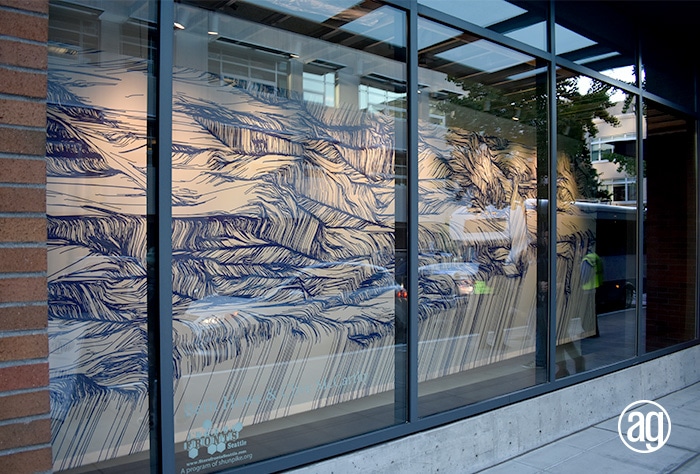 Fabric banners hanging in Monroe Fireplace product showroom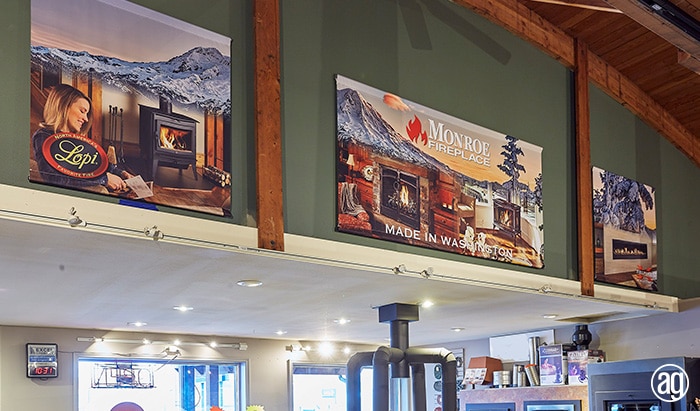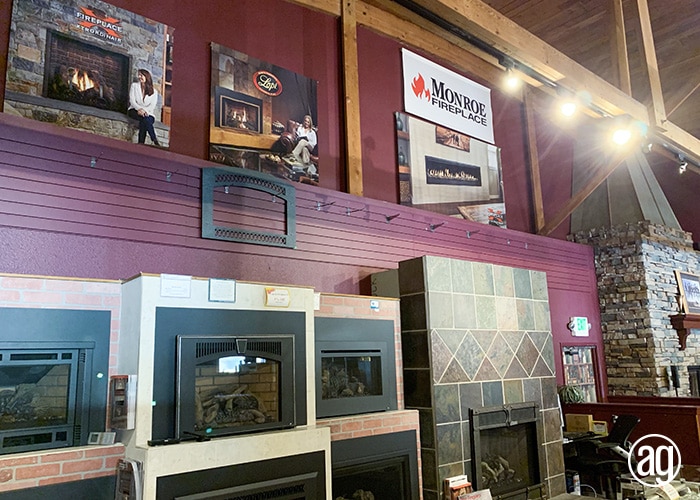 Step and repeat banner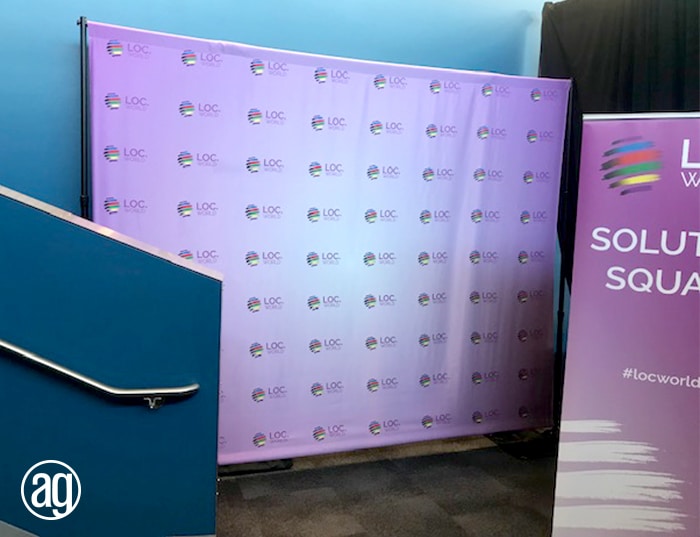 Hanging fabric banners and fabric floor graphic for an art installation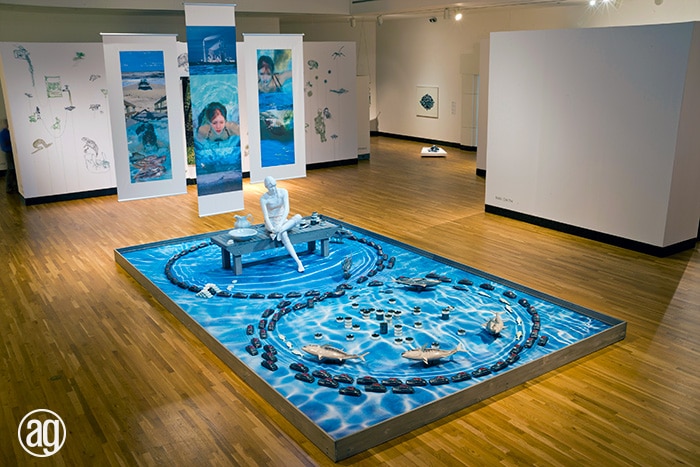 Fabric banner stands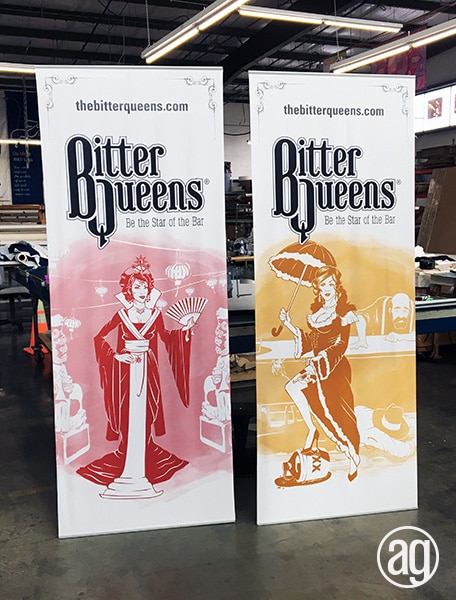 Trade show booth — fabric backdrop display and table cloth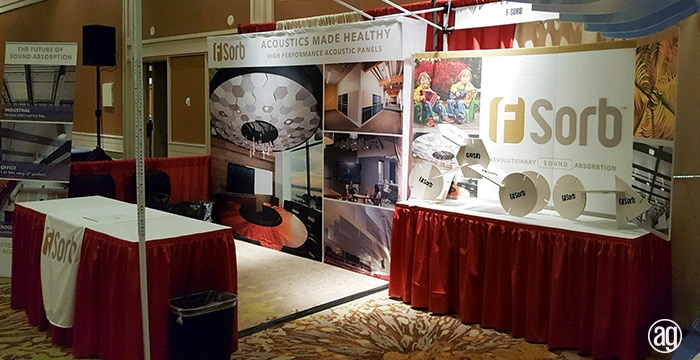 Fabric retail signage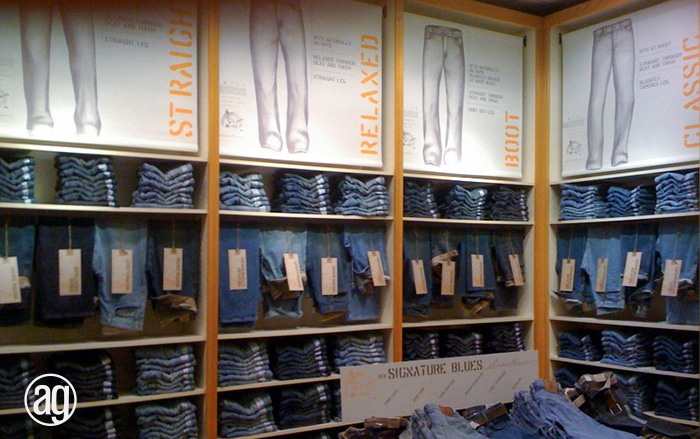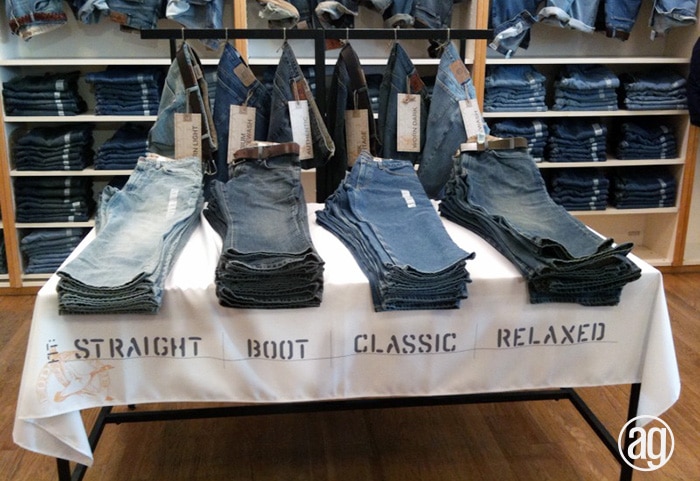 Conclusion
Soft signage visual display solutions, made possible by the latest advancements in dye sublimation printing, are here to stay. They are a great alternative to more traditional vinyl or paper signage.
As a complete print solutions provider, we can help businesses add printed textile to their signage mix. We are one of the few commercial printers on the west coast to offer large-format dye sublimation print services.
If you'd like to know more about dye sublimation and/or soft sign solutions, don't hesitate to get in touch.