Here's a look at a wall graphic we printed and installed for TwinStrand Biosciences. We share the same Seattle office building with them on Elliot Avenue. Their offices are just a few steps away from our own. It's always nice to be able to help out a neighbor.
The graphic is viewable from the 7th floor entry way. It makes waiting for the elevator that much more enjoyable.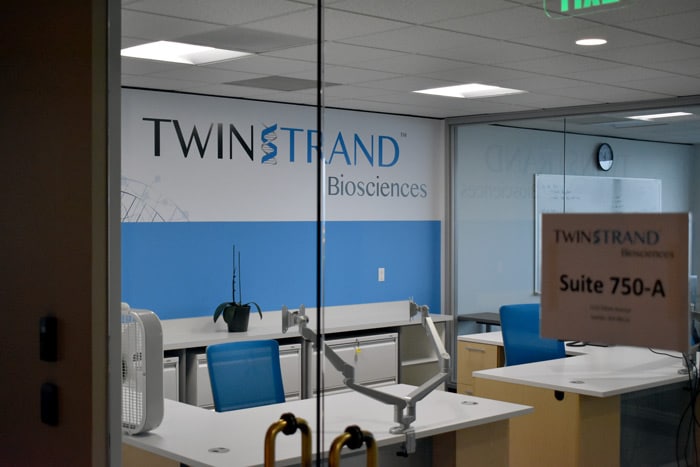 Project Details
Produced by: AlphaGraphics Seattle
Designed by: AlphaGraphics Seattle using client supplied artwork
Size: 36" x 184"
Printing: Vutek GS3250 Pro UV, Summa CAD
Substrate: Avery MMPI 2126 Matte HiTac
Finishing Options: Gloss laminate, Matte laminate
Production and Installation Notes
It may not look like it at first glance, but this graphic is actually two separate pieces.
First there's the background artwork. It spans the full width and height of the graphic (36" x 184"). It is the section with the DNA strand on one side and a bunch of white space on the other. This piece is applied directly to the wall.
The second element is the logo/business name. We printed it as one full piece, then CAD cut out each individual letter. Using transfer tape, we installed it right on top of the the background artwork. We used lasers to make sure the alignment was right.

That seems like a lot of extra work. Why would we do it this way you ask? Why not print and install the whole thing as one piece. The short answer is… for effect.
We wanted to the "logo" section of the art to stand out from the background. One of the best ways to do that is by adding contrast.
In this case, the contrast comes from applying different finishing options. There's a gloss laminate finish on the "logo" element, and a matte finish on the background artwork.
The light responds as you would expect. The background artwork gets slightly muted, while the logo gets extra reflective qualities. It's the combination of those two things that create this unique eye-catching effect.
It is especially noticeable when the audience is in motion. If you were to walk by it, you would see the reflected light shifting across the logo, moving as you move.