If you're going to throw an event and host your fellow colleagues and industry professionals, it is important to get all the details right. One detail that often gets overlooked is the table top centerpiece. A good centerpiece can help set the tone of the event.
The PSF Mechanical's held the inaugural Women in Hard Hats event earlier this month.  We partnered with them to produce a table top centerpiece that was on point.
The event was a full-breakfast buffet that celebrated the contributions of women in the construction industry.  At the center of each table sat a custom construction crane shaped produced centerpiece.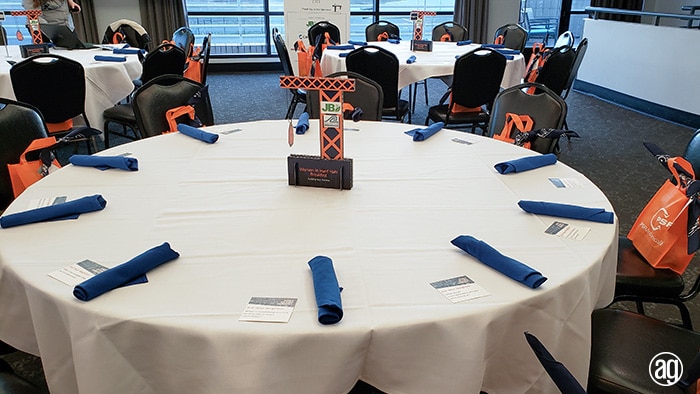 The crane is constructed entirely out of Falconboard. It stands 12.5" high, 2″ wide,  and is a little more than 6.5" long.
PSF Mechanical came up with the original concept and design. They brought us an illustration of the original concept (shown below).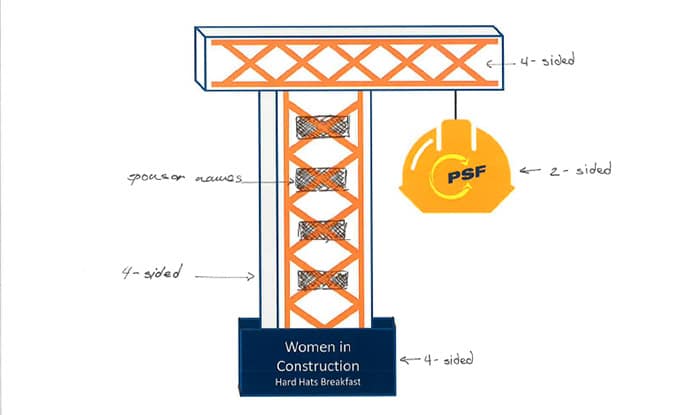 *design concept and image file provide by PSF Mechanical
Our team engineered a way to turn their idea into a fully functional piece. We made a few modifications.  We extended the length of the base to match the length of top part of the crane.  Then we inserted some "feet" into the base for extra stabilization. The result was an eye-catching centerpiece that could stand on its own.
Given the nature of the event, the centerpiece was a huge hit. It added to the atmosphere while highlighting a few of the event sponsors. And the client couldn't be happier.
---
"You all really did an amazing job translating a basic idea into a fully realized end product for the construction crane centerpieces! Far exceeded expectations and will be perfect for this event.

Thank you for everything you did to help ensure a successful inaugural PSF Women In Hard Hats Breakfast."

— Catherine Gundlach, Operations Support Manager
---
Take a look at the photos below.