Humans are inherently visual creatures. We constantly rely on visual cues to interpret our environment and find our way from place to place. Sometimes these visual cues are part of the outside world, such as a landmark tree or distinctive building that reminds us where to turn to get to the office every day. Visual cues can also be part of the indoor environments that we work and play in. In fact, environmental signs and graphics are all around us, from hotel lobbies to airports to department stores to corporate offices. They help to shape the spaces that we occupy. When they are executed well, environmental signs and graphics enhance both the functional and emotional experience of being in the space.
For businesses, developing great environmental graphics and signs can be a unique, cost effective way to improve the visual appeal of a workplace and positively influence the experience of employees, customers, and visitors.
At AlphaGraphics Seattle, we have seen marketers increase their budgets for environmental graphics each of the past several years as they aim to build brand identity and communicate critical information and wayfinding. And even as many businesses have shifted to work-from-home only or a hybrid for their workforce during the current pandemic environment, the longer-term horizon will continue to see trends in the environmental graphics arena unchanged: it is increasingly important to the overall brand strategy of most businesses.
Here are a few ways that environmental signs and graphics can make a difference for your company:
Visual Branding
Your brand identity is one of your company's most valuable assets, and the visual representation of your brand is key to how your business is perceived by both employees and customers. Strong visual branding reinforces your brand's core values, personality and company culture. Graphics and signs in the workplace help shape the visual identity of the brand. Studies have shown that well executed environmental displays improve worker happiness levels and productivity. Employees have a deeper sense of company pride and loyalty when they are in a visually inspiring environment. Effective workplace graphics and signs also positively impact the way that visitors and customers perceive your company. Successful large-scale corporate visuals make a business more memorable and convey stability and trust. They can turn a dull, generic space into one that has color, energy, and life.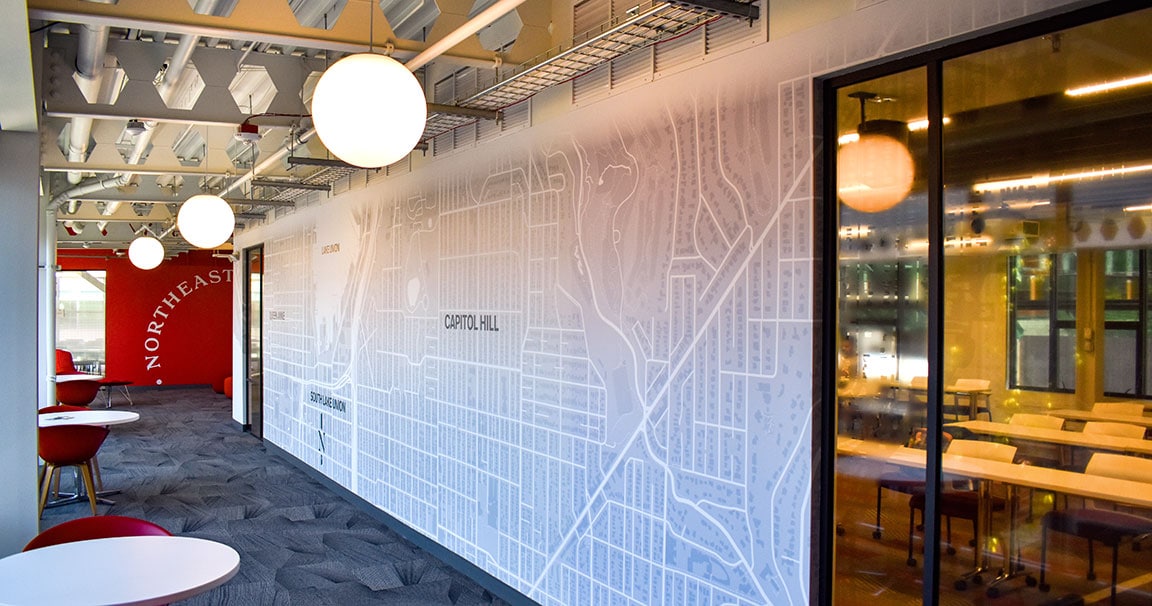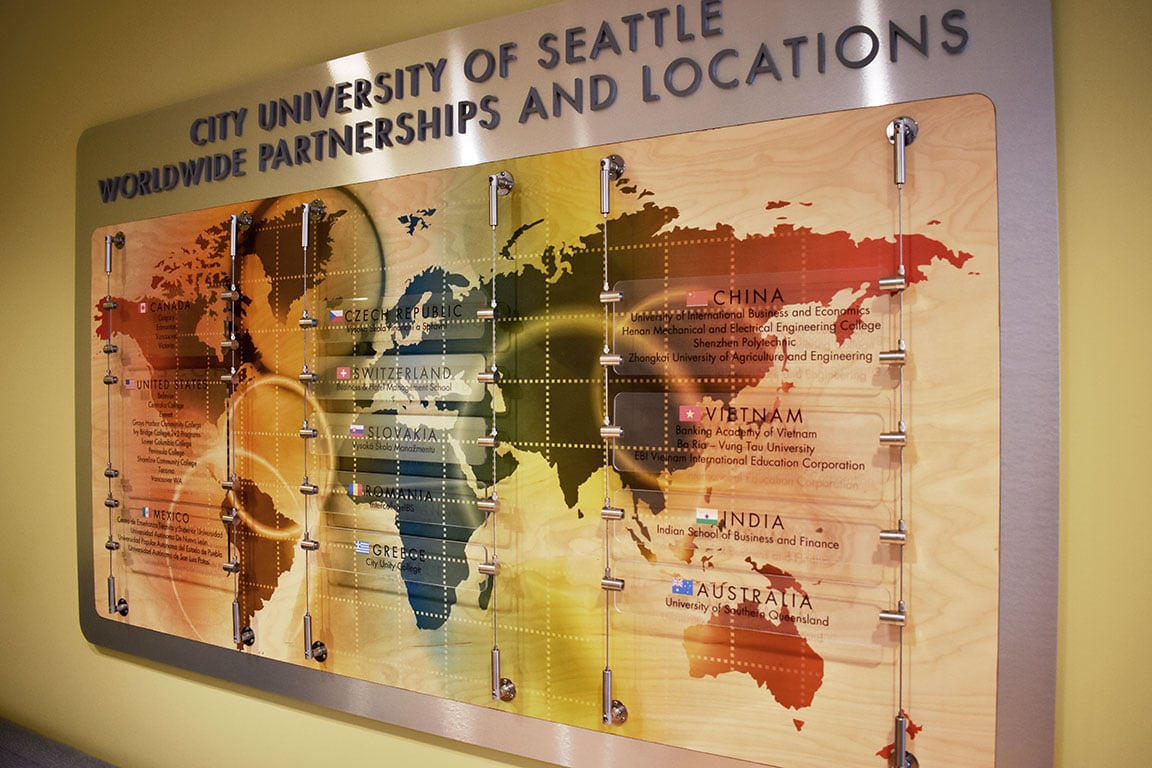 Wayfinding and Directional Signage
Wayfinding systems and elements like directories, maps, arrows, numbers, colors, and symbols are critically important. We would literally be lost without them. It is hard to imagine finding your way around the complex hallways of a hospital or locating your car in a crowded parking garage without the help of strategically executed wayfinding solutions. Shopping malls, airports, hospitals, schools and universities, places of worship, hotels, train stations, department stores, city streets, apartment buildings all rely on some form of wayfinding graphics to help visitors get where they are going.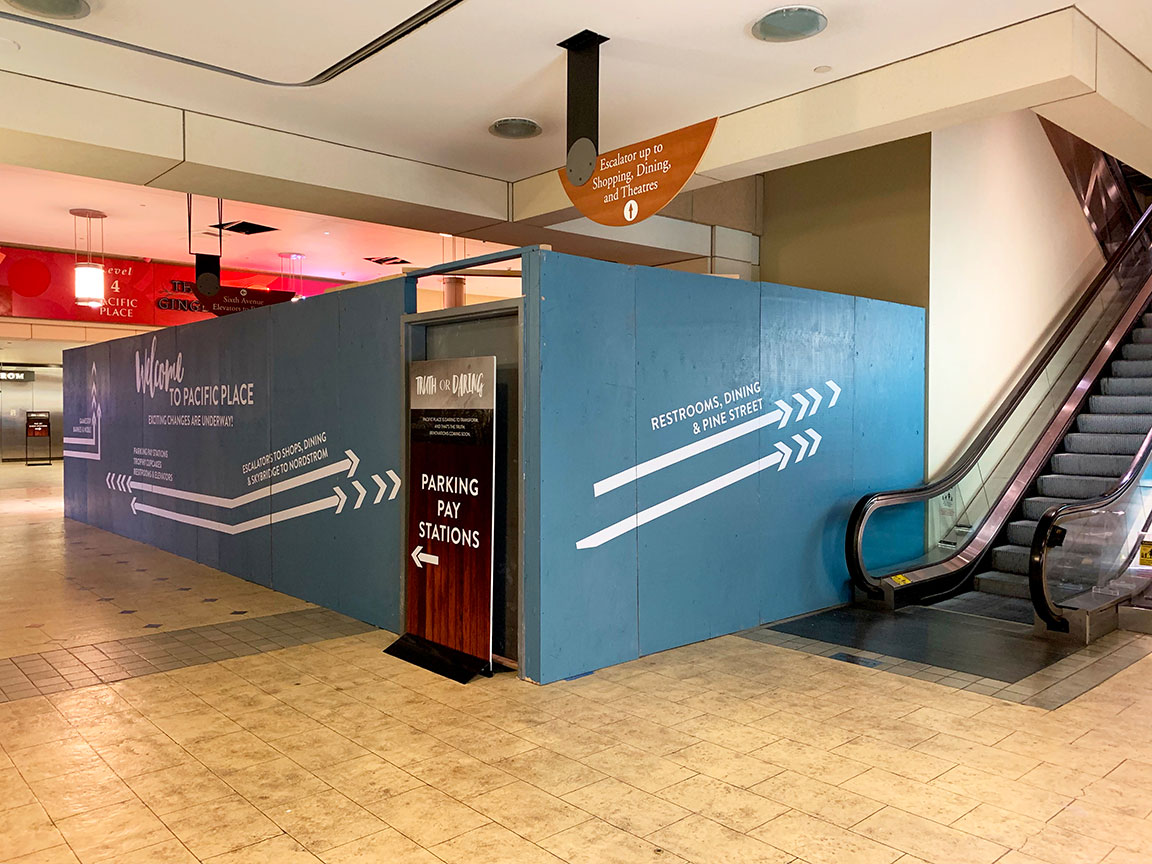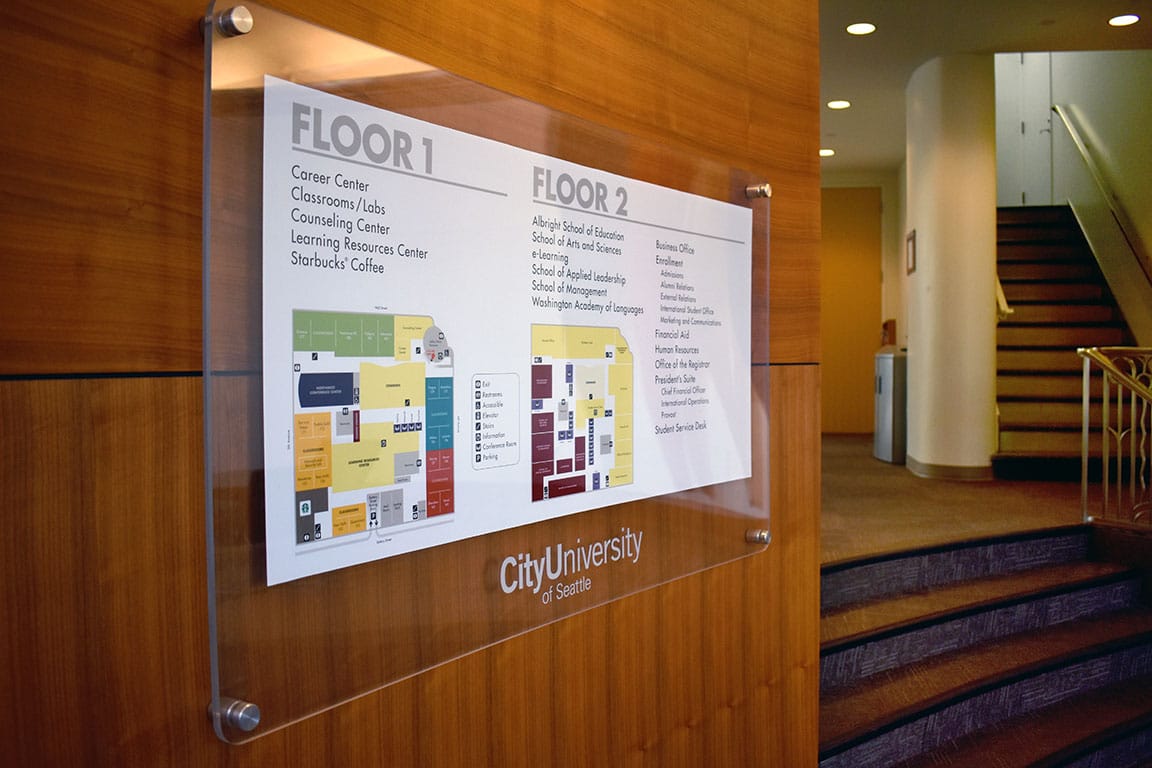 Exhibition Displays
Exhibition graphics, signs and displays are large visuals that tell stories to create unique experiences. Places like museums and public parks use exhibition graphics to convey narratives that both entertain and educate visitors on a large scale. Organizations often use exhibition displays in their offices to tell their company story or incorporate exhibition graphics at conventions and trade shows to attract clients.
Effective environmental graphics combine form and function to transform spaces into something unique and memorable. They are a cost-effective marketing tool that enhances brand perception and provides valuable information to employees and customers.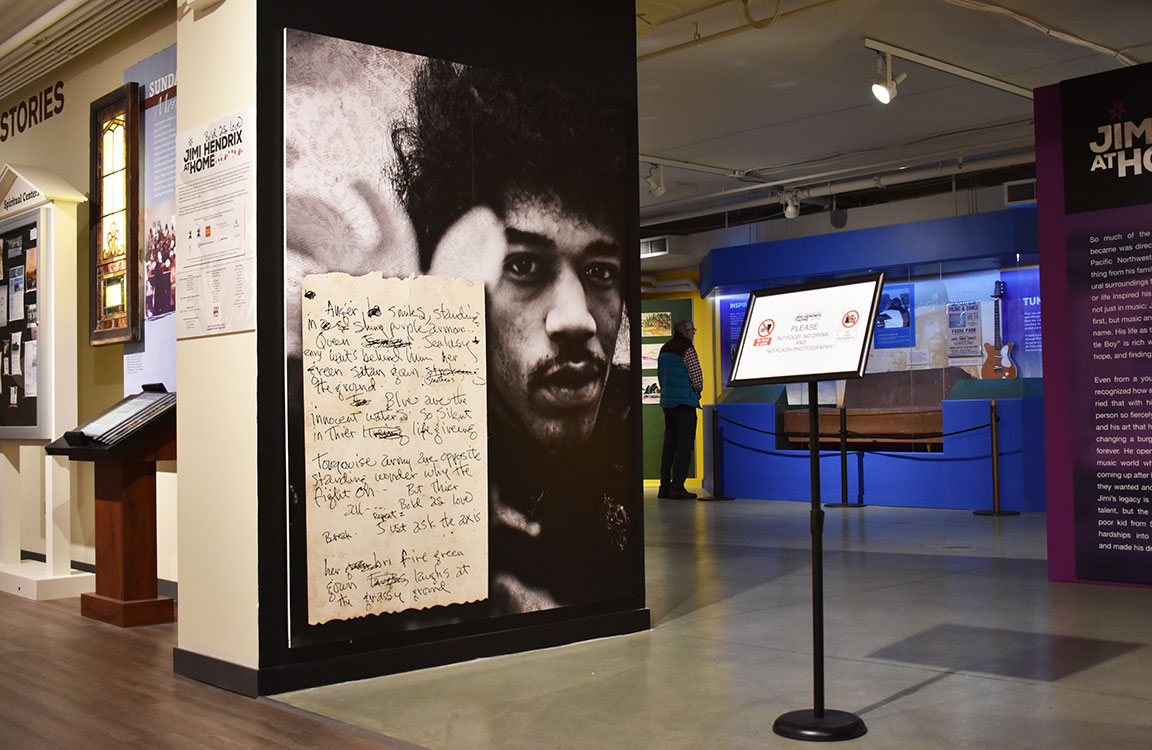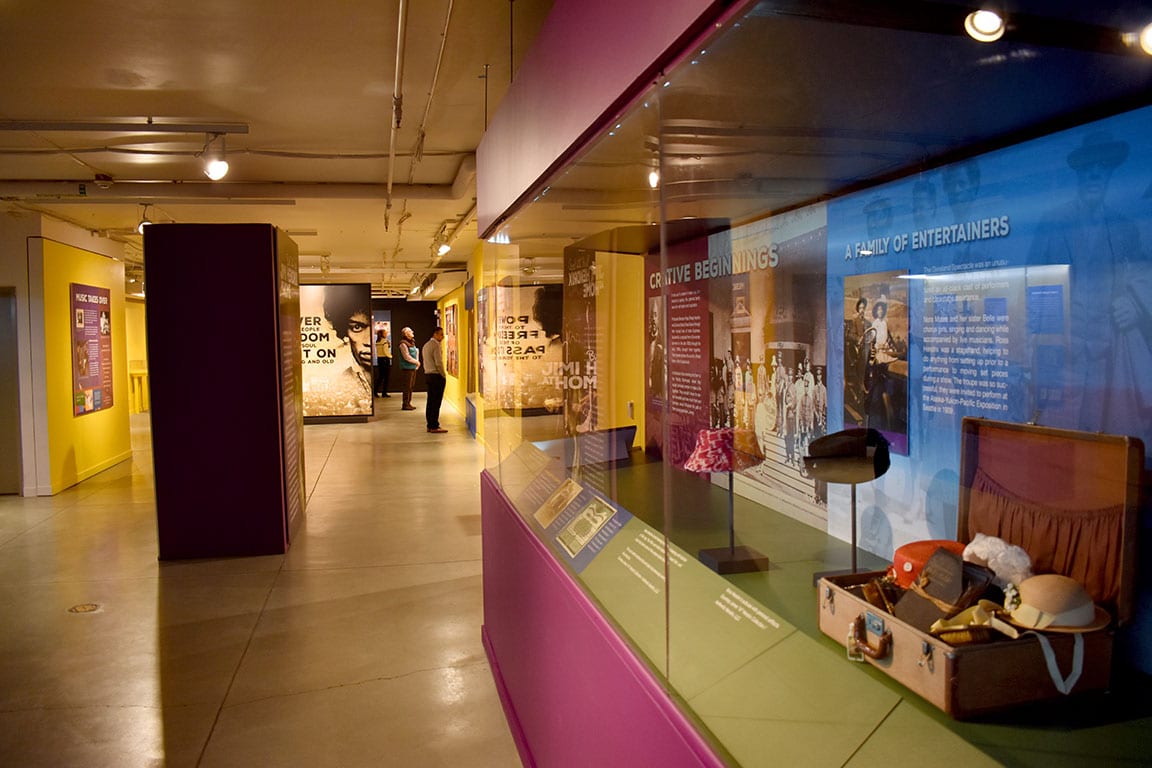 AlphaGraphics Seattle is your trusted partner for environmental graphics, signs and displays.
As your one-stop commercial printer, we are experts in environmental graphics. We have years of experience helping businesses and organizations of all kinds design and implement high-end graphics, signs, and installations in a wide variety of locations, including:
• Window, wall, and floor graphics
• Exterior / interior applications
• Temporary / permanent solutions
• Exhibition graphics and displays
• Banners
• Decals
• Wallpaper
• Three-dimensional signage
• Wayfinding sign and graphics
• Various of high-end substrates
• Value-add finishing options
When you are ready to start your next environmental graphics project let us know. Give us a call or send us a note. We are ready to partner with you.