AlphaGraphics Tacoma is proud to represent one of Seattle's best Hotels through our printing services!
We have recently printed a booklet for Oliver's Lounge in Seattle, located off the lobby of the Mayflower Park Hotel. The booklet includes recipes for premium martinis and specialty cocktails with exotic sounding names – Glacier Blue, Paradigm Shift, Mandarine Drop, Oliver's Royale, and many more!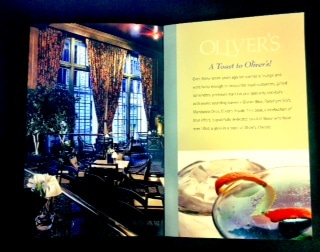 Frommer's Travel Guide: "If your favorite recreational activities include shopping or sipping martinis, the Mayflower Park is for you."
Background on Oliver's Lounge
Opened in 1976, Oliver's Lounge, located off the lobby of the historic Mayflower Park Hotel, has grown to become one of Seattle's favorite establishments and is home to the renowned "International Martini Classic Challenge". Oliver's holds the title for Seattle's "Best Classic", as well as having won the titles for Best Specialty Martini and Best International Classic Martini.
During prohibition, the site which is now known as Oliver's was occupied by one of the city's first Bartell Drug Stores. In 1933 a company that would come to be known as Westin (Western International) bought the hotel and later put in the lounge that was to become one of Seattle's favorite night spots. The Carousel Room had a circus theme, complete with antique carousel horses. Today you can relax to the sounds of contemporary jazz and the sights of the bustling city, while enjoying delicious light meals and your favorite beverages.