Are you looking for a high-end print finishing solution?
You probably already know that
AlphaGraphics in Seattle
is a complete print solutions provider. What you may not realize is that "complete" means that we specialize in more than "just printing". It also includes (among other things) our offering of high-end print finishing services.
Print finishing is a general term that encompasses all the value-added procedures applied to the prints. Most finishing occurs post-printing, though it can also happen during the print process. Finishing is where your project all comes together and really begins to take shape.
Finishing services greatly improve the function, feel, and appearance of your prints. Suitable for just about every print project, it's another way for you to give your prints that something extra that will make them stand out.
Some of the more common, not as exciting types of high-end print finishing include scoring, folding, cutting, collating, perforating, labeling, drilling, and bindery.
However, we also offer a variety of high-end print finishing services that can take your printed item to the next level. I've highlighted a few of our most popular options below.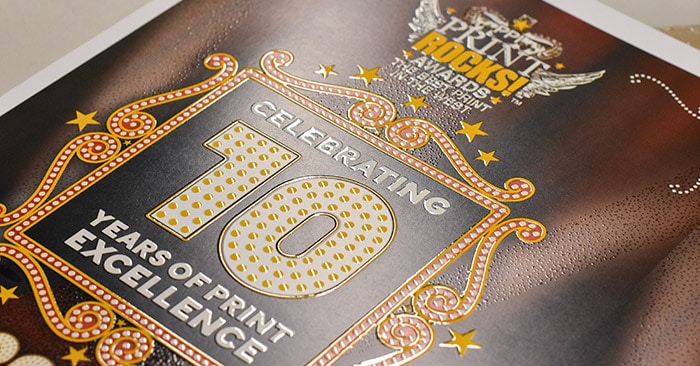 Radiant Texture
Radiant Texture – a raised spot gloss UV coating effect that accentuates the art and adds an extra dimension to your prints. A radiant texture can be seen as well as felt, inviting your audience to actively touch and engage with your materials.
AlphaGraphics Seattle is the only commercial printer in the pacific northwest area that is capable of creating the Radiant Texture effect. This effect is printed exclusively on our Scodix digital press. Radiant Texture is a brilliant tactile finishing option that adds extraordinary dimension to any print.
The press uses a special polymer specifically engineered to create the effect in conjunction with the press. During the printing process the liquid is applied on top of the ink and then cured by UV lamps. To take full advantage of Radiant Texture our staff utilizes advanced production techniques to properly prepare artwork files.
Radiant Texture leaves lasting impressions and delivers true differentiation to your printed imagery.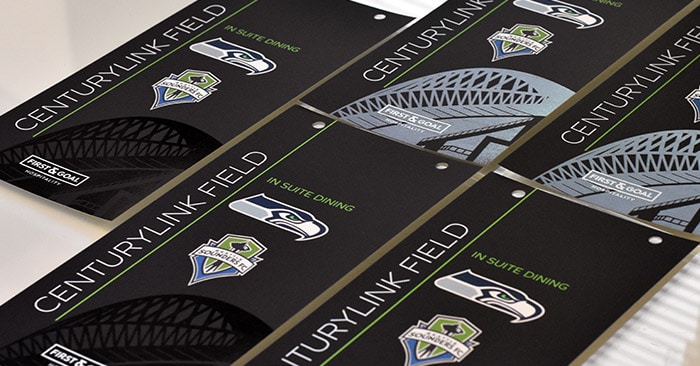 Soft Touch
Our Soft Touch – a luxurious coating or laminate that adds a velvety soft, smooth texture effect to the paper.
Selecting Soft touch is a great enhancement for business cards, brochures, book covers, presentations folders, and more. Any frequently handled print products can benefit from a soft-touch coating. The uniqueness of the texture often elicits an element of immediate fascination when touched. It is as if people are surprised that paper products have the capacity to feel this way. Unlike other high-end paper coatings, soft-touch laminate maintains a matte look void of almost all shine.
The soft touch effect requires the use of high-quality coated paper stock. Soft touch texture can be created in one of two ways, as a coating or a laminate. Soft touch coating is a liquid that is applied to the ink after being printed on the paper. Texture is formed once the liquid and the ink dries. The laminate is a plastic film that bonds to the substrate after the printing process. The soft-touch laminate, while a little more expensive, is a more durable solution than the coating.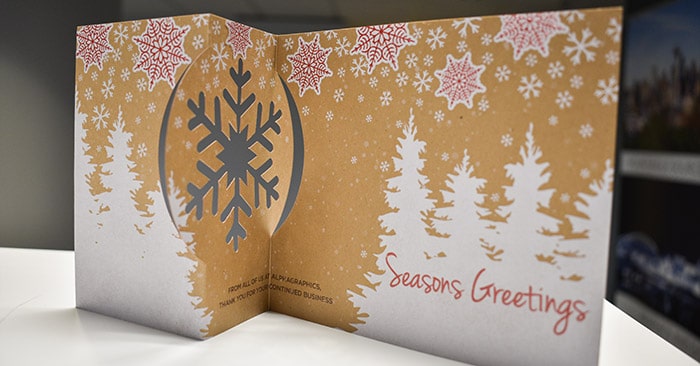 Die-Cutting
Die-Cutting – applies custom cutouts, everything from letters to unique shapes.
The die-cutting is performed with a sharp metal blade known as a die. Die is formatted into a shape. The shape of the die determines the shape of the cut on the paper or other substrate. There are both standard dies for more common shape uses, and custom dies for more creative purposes. Die-cutting allows for multiple items to be cut with maximum efficiency and accuracy. It can be used to shape the edges of the printed piece, as well as cut out shapes from the middle.
Die cutting is a versatile tool in terms of both functionality and creativity. Prints can be die-cut creatively enhanced with an endless amount of interesting custom shapes, curves, angles, flaps, holes, windows, contours, and more. Furthermore, some print products like door-hangers, tags, folders with business card slits, brochures with tabs, etc., require die cuts to be functional.

UV Coating
UV Coating – a clear high-gloss coating that both protects against scuffs and fingerprints, and also adds an extra shine that enhances the art by catching the light
This common liquid coating is known as "UV Coating" because during the printing process it instantly dries once exposed to ultra-violet light. It is relatively thick compared to other types of coatings. It's easy to spot a piece with UV coating from the slick surface and the glossy shine.
An additional benefit is that it protects printed pieces and products from normal wear and tear. In which case, the entire piece gets coated. UV coating can also be used to only accentuate specific areas of the artwork. This is know as a UV Spot effect.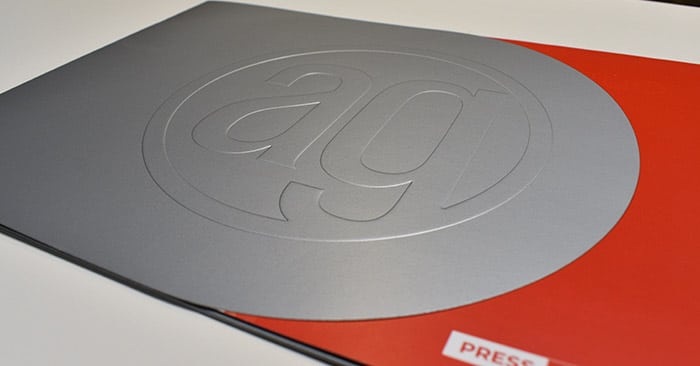 Embossing / Debossing
Selecting embossing / Debossing – creates a three-dimensional design by pressing artwork into the paper. Embossing raises the surface, while debossing indents the surface
The embossing and debossing is one of the most popular finishing's we offer. It is a special printing technique used to physically impress (emboss) or depress (deboss) imagery onto paper stock. Perfect for logos, text, graphics and more.
The effect is created with two individual custom metal dies that fit into one another. The paper is placed between the dies, heat and pressure is then applied to press the dies together. Leaving the paper to permanently take on the shape of the dies. Oftentimes you'll see embossing/debossing combined with other premium print finishing techniques such as foil stamping.
Blind-embossing is when no ink or foil is used during the process. The artwork or text design on the paper is created using only the embossing process.
A creative embossed or debossed design adds depth to your print collateral and enhances the experience of your target audience.

Foil Stamping
Foil Stamping – adds an elegant metallic reflective foil effect to the print. Colors typically include gold, silver, and copper.
To obtain that real authentic luxurious classy vibe I suggest adding a foil stamp to your prints. Similar to the embossing / debossing process, foil stamping uses a die that carries the shape of the artwork. The foil is inserted between the die and the paper. Heat and pressure is applied, bonding the foil to the surface of the paper. Typical colors are gold, silver, and copper, but non-standard colors like rose, pink, green, and blue can be used as well.
Foil stamping is an economical way to add a feeling of luxury to your pieces. Perfect for invitations, business cards, brochures, envelopes, promotional materials and more.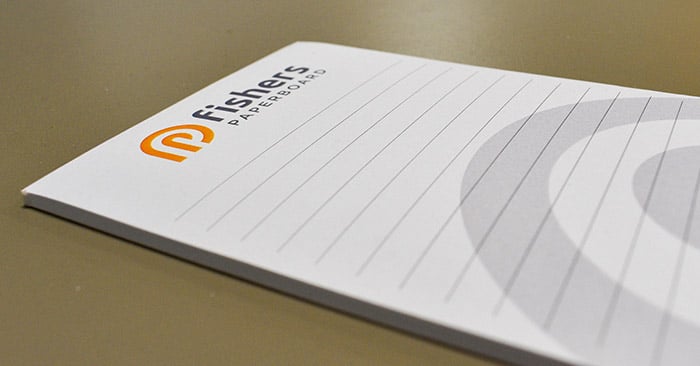 Padding
Padding – commonly used for notepads and notebooks, padding applies an adhesive to the edge of a paper stack, securing it to form a single product. It allows for the sheet on top to be easily separated or "torn" from the stack.
This is one of the more "functional" print finishing options we offer, yet it often gets overlooked as something we can do. Padding is useful for making certain print products such as notepads, forms, calendars, and gift certificates.Padding is the binding method of using a special adhesive compound on the edge of a paper stack to fasten them together. It allows for the top-most sheet to be easily removable.
---
We offer these and many other high-end finishing options.
Let us know
if you'd like to see any print samples of the above, or if you would like to know more about how to best use our print finishing services with your projects.