Every winter holiday season we like to put together a little gift package for our clients. Last year we decided to make something that we've never made before. That's how we came up with this desktop magnet board idea.
The goal of this desktop magnet board project was to:
Show gratitude towards our clients
Build something with a "wow" factor, that our clients would find valuable and actually use
Incorporate as many of our unique custom manufacturing capabilities as possible
Engineer and design the project completely in house
I am proud to report that we accomplished all our goals!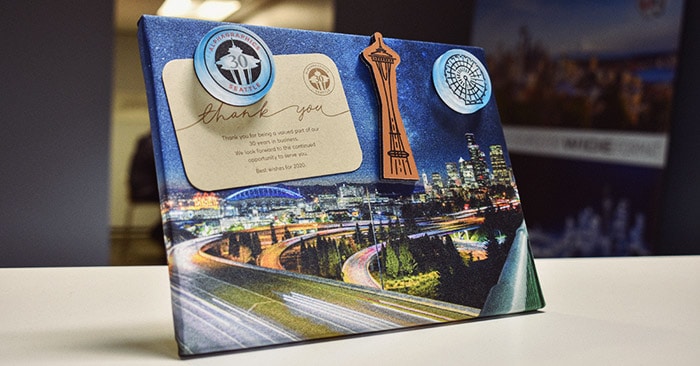 The magnet board is 6" x 9" as designed to sit on a desk. A metal magnetic sheet is mounted to the front of .25" wooden backing board. Which is then wrapped in dye sub printed fabric. A piece of felt mounted to the back of the board keeps the fabric in place and add extra visual appeal. A plastic kickstand is screwed directly into the back of the board with two small screws. The kickstand lays flat against the board when not in use, and is sturdy enough to hold the board up when fully extended.
The Seattle skyline image is printed on Nirvana Purity Shine fabric on our Vutek FabriVU 340 fabric press. The material has a nice metallic look to it, which helps the colors on the image look their best.
Along with the desktop magnet board, we also manufactured three custom magnets. The logo and ferris wheel magnets are printed on ¼" acrylic, utilizing both 1st and 2nd surface printing. The copper space needle magnet is printed on 3mm Copper DIBOND. All the magnets were printed on our Canon Arizona Flatbed press and then cut out on our MultiCam Router.
To top it all off, we secured a small thank you note to the board using one of the magnets. On the backside of the note you'll find all the design and manufacturing specs.
The desktop magnet board can sit nicely on someone's desk, perfect for small notes, photographs, or drawings. It is compatible with just about all magnets (not just the one's we made).
This project was a full team effort. We engineered, designed, and manufactured it entirely in-house.
Our clients loved the gift and it's safe to say the project exceeded everyone's expectations.
Take a look at the photos below.