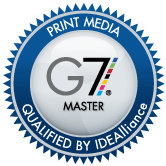 Seattle, WA – AlphaGraphics Seattle, a leading Seattle printer specializing in digital, offset, and wide-format print-manufacturing in the Pacific Northwest has renewed and expanded it's GRACoL® G7 master printer qualification status with IDEAlliance. AlphaGraphics Seattle maintains G7 master printer qualification in sheet-fed and digital offset.
This means clients can depend on AlphaGraphics Seattle to deliver consistent, industry-standard printing services which increases quality and speed on offset, digital and hybrid offset/digital printing projects.
As a G7 Master qualified Seattle printer,  AlphaGraphics Seattle annually re-qualifies it's G7 Master printer status with IDEAlliance to ensure it maintains GRACoL® G7 control and process standards. To learn more, visit http://www.idealliance.org/specifications/g7.
Contact us today to learn more about our Lynnwood, Renton, Bellevue and Seattle, WA printing capabilities: