Good news! AlphaGraphics is officially a G7 Master Qualified printer through June 2017. This is a certification we have maintained since 2013. It's awarded by Idealliance®, a not-for-profit industry group dedicated to guiding print production best practices, specifications, and standards, worldwide.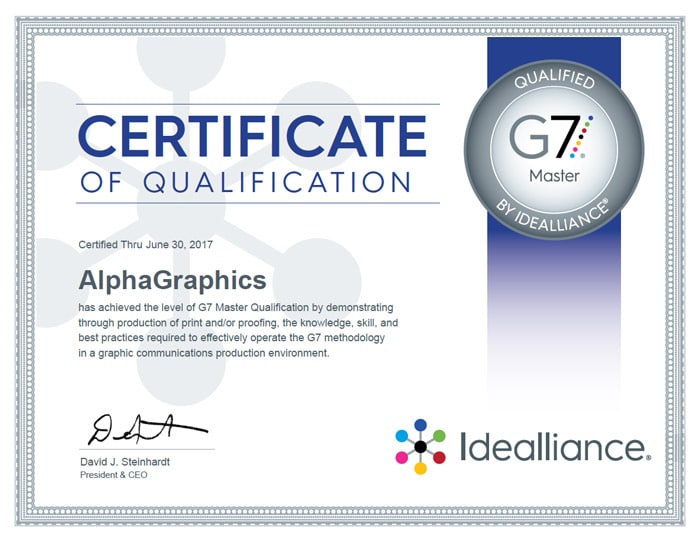 "AlphaGraphics has achieved the level of G7 Master Qualification by demonstrating through production of print and/or proofing, the knowledge, skill, and best practices required to effectively operate the G7 methodology in a graphic communications production environment."
What is G7?
G7 is a print production process that assures a common visual appearance across many print methods and machines.
Being G7 certified has helped us save time, reduce costs and, most importantly, deliver premium color consistent prints for our clients. We've built an extremely streamlined color print workflow that aligns multiple presses, substrates and inks. Hitting your desired color targets is not a problem.
What does printing with a G7 Master Qualified printer mean for you?
AlphaGraphics can provide you with high-quality color consistent prints across a wide range of products, substrates and presses. Our incredibly efficient G7 color management workflow means you get your prints faster than ever before while experiencing fewer costs.
Faster turn-around times
Reduced costs
Hit desired color targets
Consistent color and visual appearance, regardless of product, press or substrate

Questions?
If you have further questions about the G7 process and what it can do for you and your business, please don't hesitate to get in touch. Our print production experts are ready to work with you on your next project.
contact@alphagraphicsseattle.com
206-448-9100