Bellevue, WA – AlphaGraphics Bellevue, a Bellevue printing company, was chosen to assist students from all three DigiPen Institute of Technology campuses to display their featured artwork at the Bellevue Arts Museum.
The Community Education Gallery at the Bellevue Arts Museum is hosting an exhibition of DigiPen student artwork, titled "Behind the (Cut)Scenes: The Art of Games and Animated Films."
The show features production artwork created by DigiPen students from the Redmond, Singapore and Spain campuses. (Below: Digital work by Wei Ning Lim)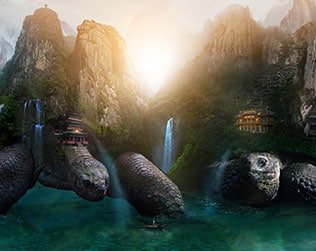 From intricate 3D models to lush digital paintings, these pieces illustrate the talent and dedication it takes to bring an idea — whether it be a prop, a character, or an entire world — to life. AlphaGraphics Bellevue was privileged to partner with DigiPen to transform the honored digital artwork pieces into display quality portraits by printing them in vivid full-color on composite aluminum using the advanced technology of a HP Scitex FB700 wide-format press.
These beautiful pieces of artwork will be transferred to the campus after the exhibition closes and will remain a brilliant showcase of talent for years to come.
Behind the (Cut)Scenes: The Art of Games and Animated Films is on display now through September 15, 2013. The Community Education Gallery is located on the first floor of the Bellevue Art Museum.
For more information about this Bellevue printing and display project, please call Gail Singley, Managing Partner of AlphaGraphics Bellevue at (425) 233-6095 or email gail@alphagraphics.com. AlphaGraphics Bellevue is located at One Lake Bellevue Drive, Suite 203 Bellevue, WA 98005.