If you want to make a great impression, you need a great business card. AlphaGraphics is an excellent source for high-quality, affordable custom business card printing. Our printing experts always go the extra step to ensure that your cards get done right, on time and on budget.
The Issue
This was the case when The Yes Works came to us with their business card order.
Before working with us, they were printing with a different local printer and were not happy with the results. After taking the time to review The Yes Works' art files, we discovered the problem. Their artwork was composed of low-quality rasterized images, not ideal for printing.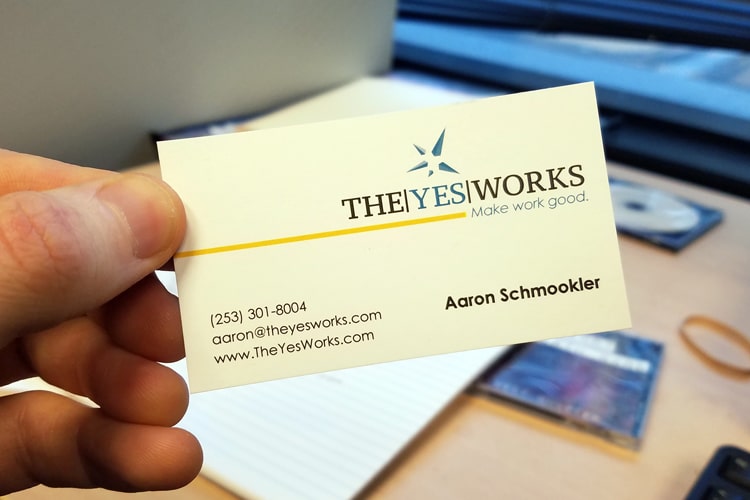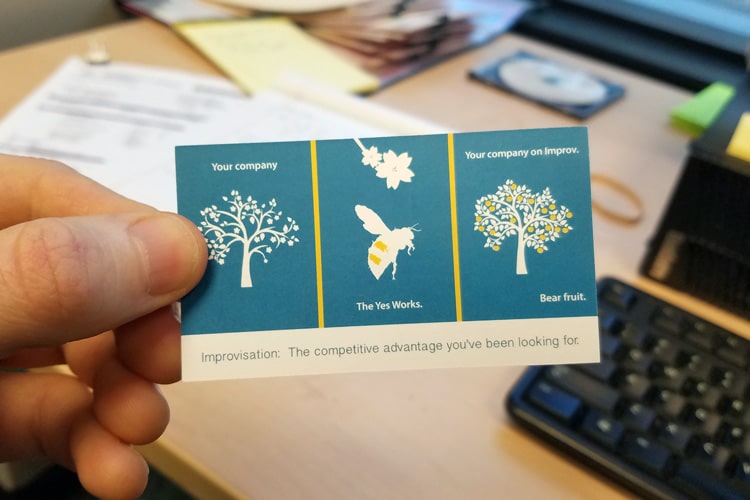 We had the solution.
Our pre-press department created print-ready vector artwork from their existing low-quality rasterized files. From there, we sent the cards to press and they turned out great. It took only a few extra simple steps to yield an outstanding result. This is the type of service you can expect when printing with AlphaGraphics.
"Unparalleled satisfaction.
Scott and his team went above and beyond for what I'm sure was a small job for them. They may actually have put more in hours and materials into this job than I paid them. But they have a loyal customer. I'll be back. I'll go out of my way to bring them all of my printing.
They noticed problems in my source files. Worked hard with me to solve them, and didn't charge me anything extra for all the time this tricky problem created.
The last outfit I used either didn't notice, or ignored the problem, printed on poorer quality card stock, took longer, and charged me more.
The quality of the product is high. The quality of the service was highest. And the cost was lower than average.
If you care about the product, and you care about your experience… this is the place."
— Aaron Schmookler, The Yes Works
Project Summary
Project: Business Cards
Size: 3.5″ x 2″
Printing: Digital Printing
Press: Indigo
Paper: Cougar White Digital 17.5pt Cover
Notes: Created print-ready vector artwork from low-resolution rasterized source files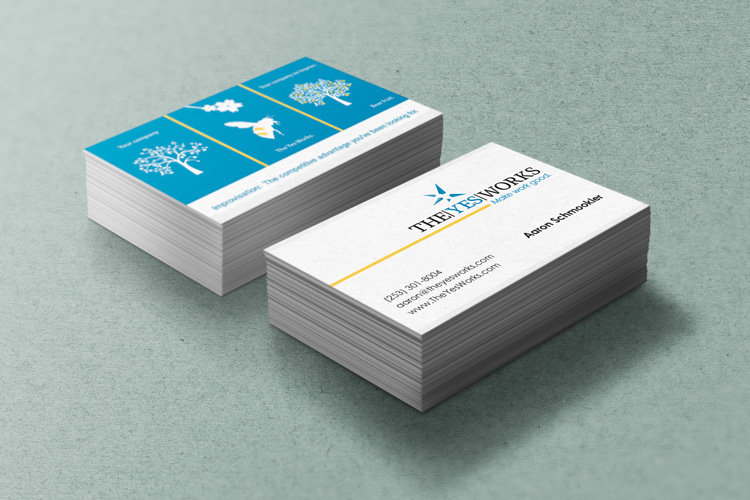 ---