Recently, an East Coast-based creative agency contacted us to help their West Coast client with a special project: find a unique, highly personal way to say "Thank You" and boost morale for their thousands of employees who were working from home across the globe during the long months of the Covid-19 pandemic.
Getting personal is a specialty of ours. Highly personalized print and digital communications are a big part of what we do. We work with our clients to design and execute print and digital campaigns that incorporate personalized components to increase engagement and response rate. We call it "variable data personalization", and it can go way beyond simply dropping in a customer's name (think Dear Jim instead of Dear Sir). Variable data personalization can also incorporate a combination of photography, art, geographic and demographic elements to make each piece coming off the press a unique, customized creation.
For this project, we took personalization to a whole new level. Each employee of the client company (all 3500+ of them) was to receive a gift box of items individually customized for them. After working with the agency to develop prototypes of the personalized gifts, each gift box included a custom planner, stationery, stickers, and other gifts with 30 personalized images for each employee.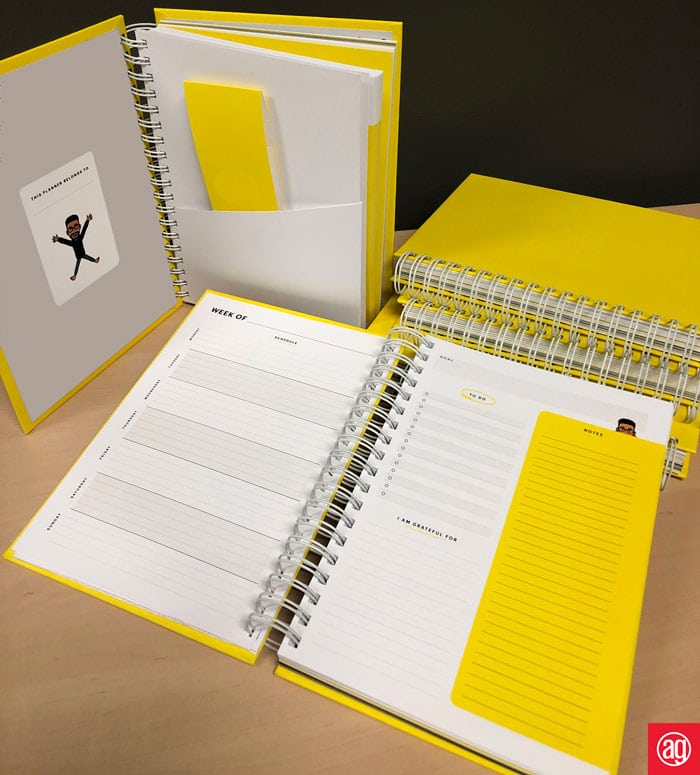 This work involved not only sophisticated design and variable data printing, but a heavy amount of IT and logistics expertise to manage the integration and transfer of personalized data and imagery from the client's portal to our systems. It took over 110 hours to download all the personalized data, and elaborate, detailed scheduling was required to meet the clients' timeline. All 3500 kits needed to be printed, assembled, and shipped to employees' homes across the U.S. and 27 countries within a narrow time window.
The agency and the client have received plenty of positive feedback from the employees about the gift boxes; so much so that they have decided to expand the program to include shipping a box to all new hires in the coming year as a welcome gift.
We asked the agency why we were selected for this work. After talking to numerous printers that balked at the complexity, they were happy to find that AlphaGraphics Seattle was capable of the task and we were excited about the challenge.
If you are looking to make the most of your customer communications, ask us about how variable data can make a big impact with the personal touch. Or if you're struggling to find a partner that can turn a "really cool" complex project idea into reality, let's talk.